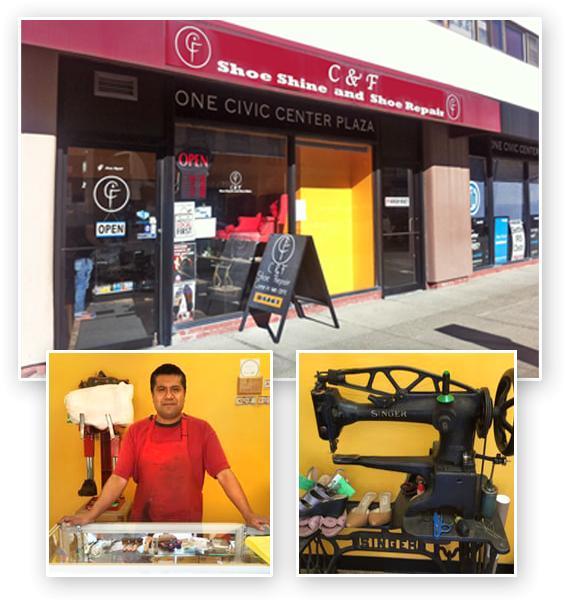 About Us
"We shouldn't be a throw-away society anymore. We should try and repair things because it's good for everyone. We should buy quality because it's worth it to fix, and it's worth it to keep, too."
— Refugio Contreras, founder & owner of C&F Shoe Shine and Repair
For over 34 years, "Shoe Artist" Refugio Contreras has been creating a following of devotees by simply doing what he loves best. Owner of C&F Shoe Repair of Poughkeepsie, NY, Refugio loves nothing more than a repair challenge — be it a worn motorcycle seat, a trashed & tossed antique chair, well-worn favorite heels or a water-damaged leather coat — he will work his magic and return your item looking as good if not better than new! Pop into the Hudson Valley's best-kept secret in leather and textile repair today with your favorite "lost cause" shoes, belts, bags, wallets — you name it — and have the artist himself bring them back to life. See below for full list of services.
Don't just take our word for it! Take a look at our Before & After images. And our customer reviews speak for themselves...
"Shout out to the most amazing shoe repair shop around! I went in to ask if Refugio could replace the strip of leather that covers the cheap plastic heels on my boots and he ended up creating new stacked leather heels for me instead! High quality craftsmanship that improved these boots to be better than new. I recommend if you live anywhere close enough to use his services, choose C&F shoe repair!". — Art C.
"I had bought a pair of boots and the calf and ankle were too large, so I brought them in to see if he could take them in....well he did and they fit amazing! He is a true artist and I could not be happier! I now know where to go if I ever need anything repaired or adjusted in the future. Super nice too!" — Mindi A.
"Muy buen trabajo lo recomiendo es excelente en reparación de zapatos, carteras." — Katiusca B.
"Very happy with the professional service provided. They do not only do a great job in repairing/shining shoes, but they are craftsmen and take pride in their work!" — Kyle Z.
Click for more customer testimonials on Facebook.
Sole Survivors: You can still get your shoes repaired in the Hudson Valley